How can I integrate Typekit fonts into stories?
Storify VIP users have the option to customize the look of their embedded stories with high-quality fonts from Typekit, allowing stories to have a more professional look or match the branding of their websites and blogs better.
Before integrating Typekit
To get started with Storify's Typekit integration, you'll first need the following:
• A Storify VIP account (get one here)

• A Typekit account
• A "kit" of fonts with the domain "storify.com" added to it
• The kit's ID
If you're new to Typekit, instructions for setting up a Typekit account, creating a kit and finding the kit's ID can be found on Typekit's website here.
If you already have an existing Typekit account and have created kits with your favorite fonts, just be sure to add storify.com to the domains that can use it on Typekit before moving forward.
IMPORTANT NOTES: You should not add "selectors" to the kit you create. Storify will apply your fonts correctly to everything in stories. Also, do not use a kit with added (non-default) characters or too many font options in it. These have very large file sizes and may affect your embedded story's ability to load properly in readers' internet browsers.
Once you have your kit ID
After you've connected your kit to the domain storify.com and have the kit's ID, go to the Embed Style area of Settings on Storify, click Connect Typekit account, enter the kit ID and click Connect account.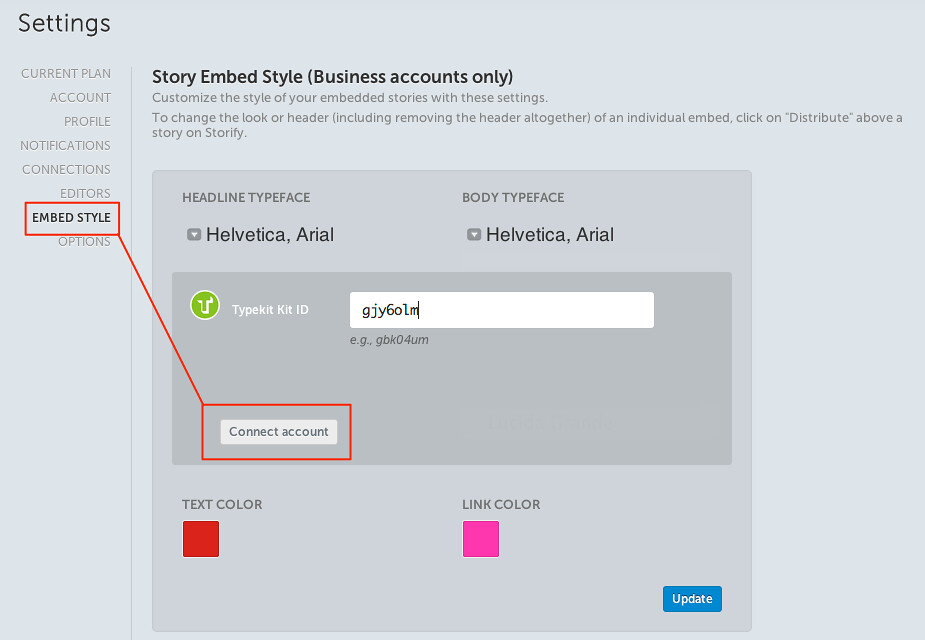 The fonts from your kit will instantly be added to the Headline and Body typeface options. Select the fonts you want to appear in your embedded stories and click "Update" to apply them.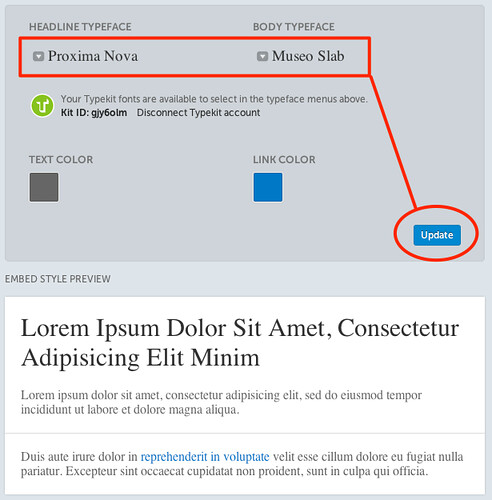 Embedding your story
Finally, to embed your story elsewhere and see these Embed Style options applied, go to your story on Storify, copy the embed code given in the "Distribute" pane at the top and paste it anywhere embed codes are accepted.